Over the past few years, artificial intelligence has expanded quickly, especially in the SEO and content marketing industries. One of the trending AI tools at the moment is ChatGPT. It can help businesses in many ways, including SEO, digital marketing, and content writing.
As an AI language model, ChatGPT can help businesses in generating human-like content based on the prompts given. The quality and effectiveness of ChatGPT's content for SEO will depend on how well it is tailored to your specific needs and how well it is integrated into your overall SEO strategy.
Let's quickly look at ChatGPT's algorithm before using it for SEO and Content Marketing.
Based on the questions or inquiries requested, ChatGPT's algorithm creates text that appears to have been written by a human. This is accomplished through a technique known as "transduction," which predicts the following word in a series depending on the words that come before it.
It uses a variety of layers and attention methods to process the input given to the AI tool in order to generate text, allowing it to take into account the context and relevancy of the words in the input and produce suitable responses. The output is generated based on the probability of each word, based on the patterns and relationships learned from the training data.
So you should think wisely before using it for SEO and Content Marketing.
How to Use Chatgpt for SEO
With ChatGPT by your side, you can tap into a wealth of resources to optimize your website and climb up the search engine rankings. Here are just a few ways that ChatGPT can help:
Keyword Research: Say goodbye to tedious keyword research and hello to lightning-fast results. ChatGPT can generate a comprehensive list of relevant keywords and phrases that are tailored to your industry, saving you time and effort.
Content Creation: Need fresh and engaging content for your blog or website? ChatGPT can generate a range of content ideas that are optimized for SEO. Simply provide a topic or a few keywords, and let ChatGPT do the rest.
Meta Description Optimization: A well-crafted meta description can make all the difference in attracting clicks and boosting your website's visibility. ChatGPT can help you create compelling meta descriptions that incorporate relevant keywords and phrases.
Answering Common Questions: ChatGPT can assist in identifying common questions related to your business or industry, and provide you with the best answers to those questions. This can help to drive more traffic to your website and improve your website's ranking on search engines.
Backlink Building: ChatGPT can help you identify potential websites for backlink building, which is an important aspect of SEO. By generating a list of websites that are relevant to your industry, you can reach out to them for potential backlink opportunities and improve your website's authority.
How to Do Keyword Research Using ChatGTP
With ChatGPT, you can generate ideas for blogs, articles, social media posts, newsletters, sales letters, and other types of marketing content. It can guide you in implementing best practices for SEO and defining digital marketing strategies to achieve your marketing goals.
The most important task for digital marketers or SEO experts is to identify relevant keywords so that they can help rank a website page.
Use ChatGPT to do your keyword research. After identifying your target audience, you can find the keywords, including, seed keywords, primary, secondary, etc. based on your marketing goals. This helps you to prepare new content or optimize the existing content around the list of keywords provided by ChatGPT.
Let's start finding the list of keywords using ChatGPT.
Firstly, ask ChatGPT to give you a list of keywords for a specific topic. You've to be specific with your queries. Here is how you can ask – Prepare list of seed keywords for "Dog Food". (One thing to know here is that an article is missing in the given query. Yet, you can see that ChatGPT has understood the context and provided the relevant answer.)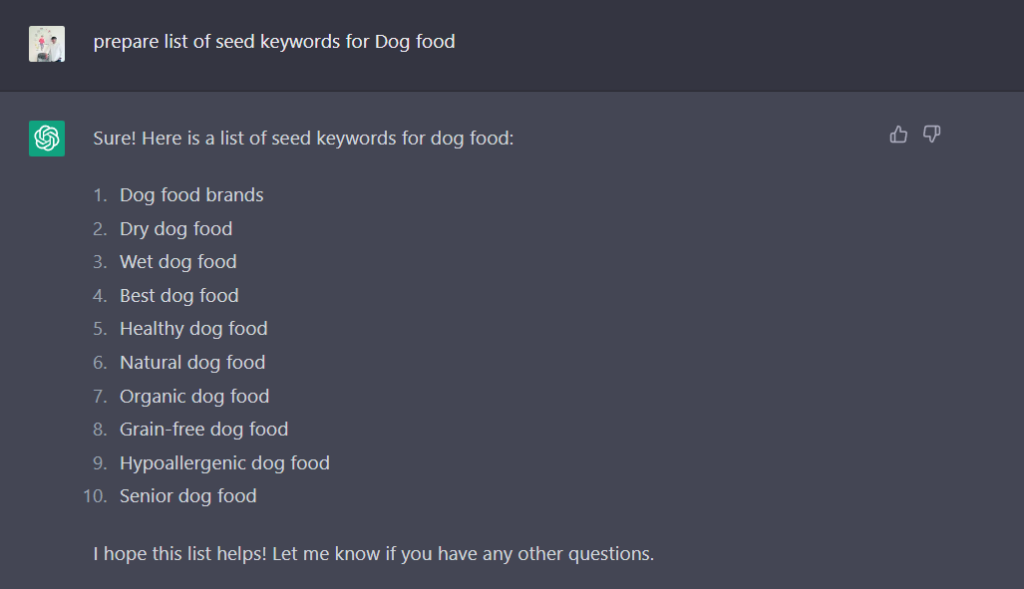 Next, try another niche, say, for example, ask ChatGPT to prepare a list of keywords related to "Diet Food".

ChatGPT shared a list of 20 keywords for diet food. How simple is that! You can use your preferred SEO tools to check the keyword difficulty, volume, CPC, etc. and use the same for the content.
Now, how can you write content using ChatGPT. Let's check that out.
How to Use ChatGPT for Content Writing
We will go ahead with the same topic discussed above. Now, simply ask the AI tool to create an article around these keywords. So we asked ChatGPT to prepare an article around those keywords. ChatGPT saves all the conversations, understands the flow of each conversation, and responds accordingly.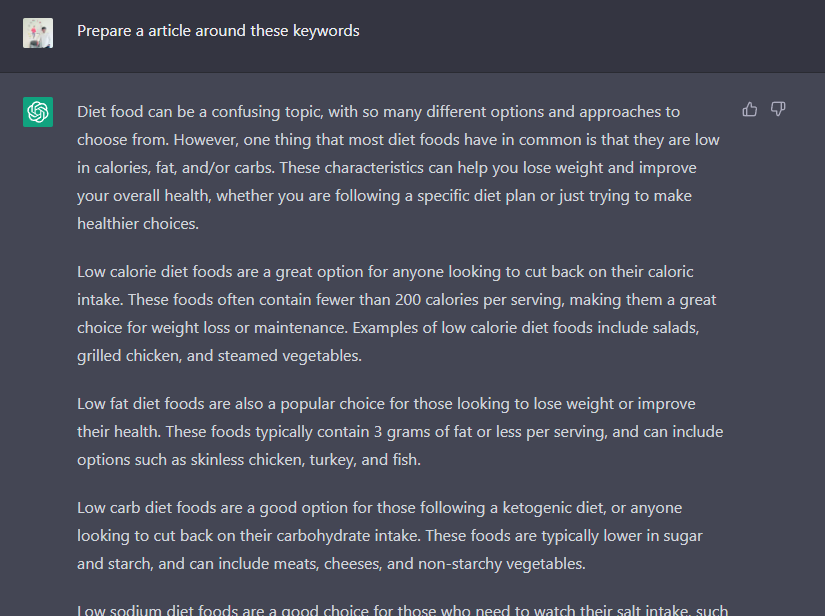 You can see in the above-shared image; ChatGPT has shared an article. The word count is 580 words, within a minute. Isn't that great?
Now you might be thinking, will this article rank? As chatGPT is an AI tool, don't fully rely on that. The next step you have to do is optimize your article with relevant keywords and give it your touch, like whatever writing style you might be following, writing tone, etc. Once done with content optimization, your article is ready within a few minutes. Time-saving tool for your marketing team, right? It is, for sure.
Another way to use ChatGPT for content writing is to prepare an outline or conclusion for any long-form content. You can ask ChatGPT to create an outline for a topic or a keyword.
For example, we had a blog post on Gmail: What Is a Nudge and How to Turn It Off. I wanted to verify what ChatGPT had in the store for our page. I asked to share the keywords related to the term "Gmail Nudge" and the smart AI tool provided the list of relevant keywords. Literally helpful! Then I asked to share the outline for the same. You can see the outline in the below image.

Also at the end, it provides a conclusion.

I wanted to try another topic. So, I took a B2B keyword – Enterprise Mobility. In the below image, you can see the outline provided by ChatGPT for Enterprise Mobility.
How to Use ChatGPT for SEO & Content Writing
Here are four proven ways you can use ChatGPT in your day-to-day activities, as a digital marketer, author, poet, song writer, or any form of content writer.
#1 ChatGPT for E-mail Marketing
What's more important in email marketing? Interesting topics, catchy lines, and CTAs if you want users to sign up for your mailing list. You can start with FAQs for your niche and use ChatGPT API to generate the list of FAQs. By using it, you will make a list of inquiries that your target audience is looking up on Google: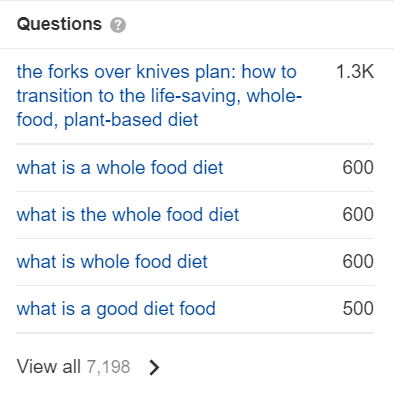 You can ask these questions to ChatGPT and provide actionable CTA on it to engage your users.
We can use GPTChat to handle similar marketing activities. Say, for example, let us conduct research around content marketing success stories and come up with a conclusion. I asked the same to ChatGPT. You can see in the given image, what it received.
Let's now give it a try to find a solution to a challenging technical query. As you are aware, Google updates its algorithm every day. Ask ChatGPT what BERT is in SEO. See the answer in the below image.
For content writers, all of these features of ChatGPT can be quite useful because they highlight the best of information and provide great suggestions.
#2 ChatGPT to Write Letters
Delegating time-consuming tasks to artificial intelligence is the most effective technique to save time. The procedure can be curated whichever you like. A good idea is to build your pitch utilizing the guidelines that ChatGPT will provide: For example, I asked to write a resignation letter and you can see the standard format of resignation letter in the below image.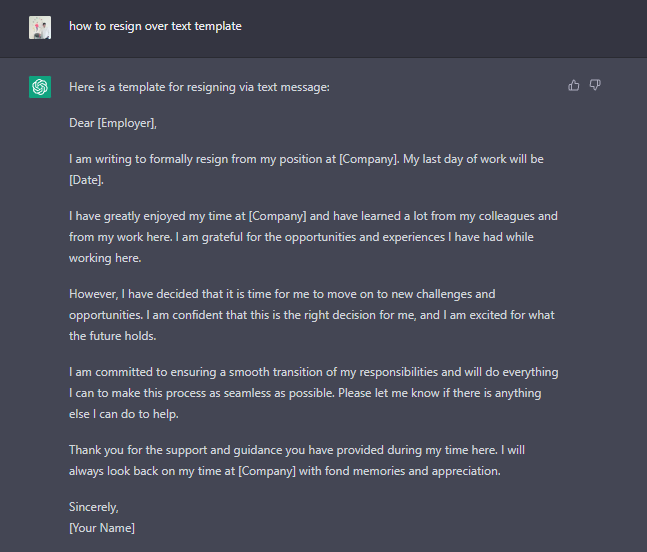 #3 ChatGPT to Write Articles, Fiction, Short stories, and Passages
It is worth mentioning that short-form information is usually of greater quality than long-form content; this is a feature of the ChatGPT model. Nonetheless, AI is becoming far better at producing large amounts of text that are as good for an author or poet, or writer. I wanted to check the same for the music industry and asked to write a Rap song. I know it's hilarious. But see the result, ChatGPT knows how to write it well for an SEO guy!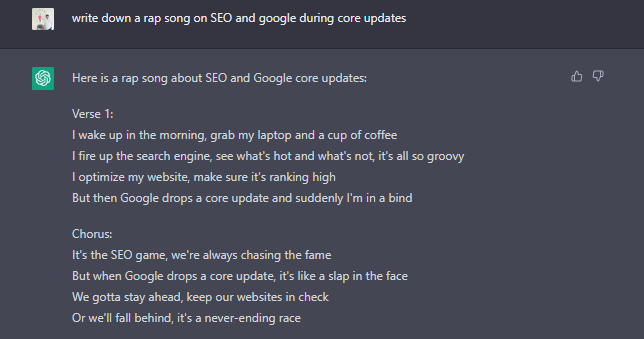 #4 Detect a few pointers of AI-generated content
Unfortunately, there is no one-size-fits-all solution for recognizing AI-written content. Cornell University researchers discovered that people believed fake news generated by AI tools around 66% of the time.
One common technique is to utilize ChatGPT to assess various text properties, such as how easily it reads and how frequently specific terms appear. Because expansive language models evaluate the next word in a phrase, they are more likely to choose common terms like "the," "it," or "is" over uncommon words. So, asked specific queries to ChatGPT and get your answer.
Artificial Intelligence for SEO: What's Good and What's Bad
AI can completely transform the field of search engine optimization (SEO). This is due to its ability to analyze enormous amounts of data rapidly and precisely, allowing it to detect patterns and trends that human analysts may overlook. However, there are some potential downsides to using AI for SEO.
The Pros of Using AI for SEO
1. Efficiency:
AI can analyze and interpret vast amounts of data considerably faster than humans, allowing it to spot trends and patterns that manual analysis might miss. This can assist organizations in making more informed judgments regarding their SEO strategy.
2. Precision:
AI algorithms are supposed to be highly accurate, and they can detect patterns and trends in data that people may miss. This can assist firms in identifying possibilities for improvement that they might otherwise overlook.
3. Personalization:
AI can be used to tailor the user experience, increasing the likelihood that visitors will locate the material they are looking for. This can assist enhance conversions by encouraging users to linger on the website and interact with the content.
Cons of AI for SEO
1. Price:
For small firms or organizations with tight budgets, implementing AI technology can be costly and difficult.
2. Complexity:
The complexity and difficulty of understanding AI algorithms might make it tough for organizations to know how to employ them effectively.
3. Dependency:
Using a lot of AI for SEO can make a company reliant on the technology, which can be dangerous if the AI system malfunctions or the algorithms are not updated.
4. Moral Concerns:
The use of AI for SEO raises moral questions as well, such as if the techniques might not be neutral. Businesses must carefully weigh the potential ethical ramifications of incorporating AI into their SEO strategy.
Common Questions Asked Around ChatGPT
What are ChatGPT's limitations?
ChatGPT's capabilities are constrained by a number of shortcomings, including dependability, accessibility, speed, interoperability, and others. Future editions of ChatGPT can, however, address all of these restrictions.
Can ChatGPT respond to our queries?
In the appropriate circumstances, ChatGPT will probably offer the right responses to the queries. However, occasionally, it might either not respond at all or say that it knows the answer.
Anyone can use ChatGPT?
Yes, ChatGPT is accessible to anyone. No specific expertise in machine learning systems is required. It is simple to operate.
Is AI trustworthy when it comes to stating the truth?
Because ChatGPT is not connected to the internet, it occasionally gives incorrect responses. Additionally, it needs to learn more about the events that will occur after 2021 and occasionally may offer harmful instructions or incomplete content.
Conclusion
Overall, the use of AI in organizations has the potential to bring many benefits, but it is important to carefully consider the potential risks and implications and to ensure that AI is used in a way that is responsible, transparent, and aligned with the values of the organization.