Are you aware of the true power consumption of your computer? When you wish to upgrade or switch out components, or when you want to overclock, you need to know that information. Life is virtually unfathomable without a PC, whether it be for business, gaming, or enjoyment.
They come in a variety of sizes and shapes and have developed into crucial instruments that we use on a daily basis. Some of them are small enough to fit in the palm of our hands, while others are about the size of a typical IKEA drawer. They differ in terms of power as well, which affects power usage. In conclusion, most people don't often think about that.
Also Read: Key Advantages of Enterprise Mobility Solutions
Why Is It Important To Measure The Power Usage Of Your Computer?
The benefits of measuring and keeping track of your PC's power usage are numerous.
To begin with, it can assist you in saving energy and substantially lower your electricity expenses.
Another advantage of reducing your PC's power consumption is that it will last longer since less heat is produced because overheating is frequently the main cause of hardware failure.
Last but not least, if you intend to upgrade your computer, you should be aware of how much power it will consume so that you can complete your build appropriately. After all, each power supply can only deliver so much "juice."
Also Read our latest blog on The Future of Technology in Education 2023.
How to Use Online Tools to Check PC Power Consumption
The simplest, albeit less accurate, way to estimate (!) how much electricity your device uses is through online resources.
They don't require downloading or installation and are free to use.
You could try at least three different methods to check your computer's power usage. Therefore, you are not need to individually measure each component.
#1 Check PC's power usage with LocalCooling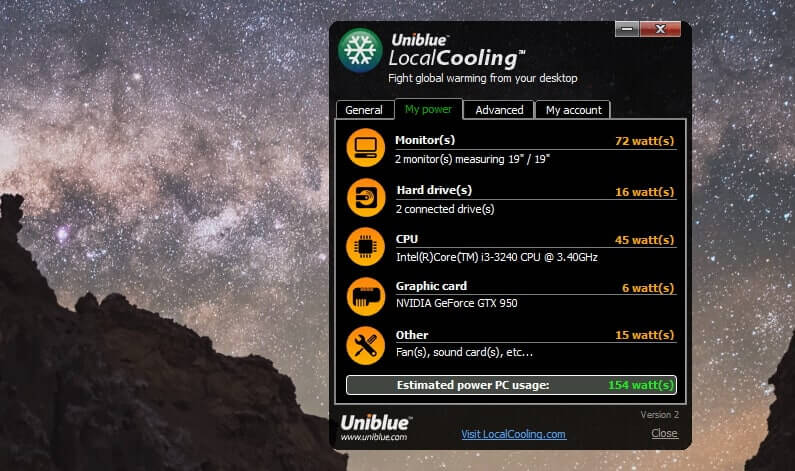 The power used by the primary computer components can be estimated using a free programme called LocalCooling, which also provides you with some options for power-saving features.
Local Cooling is a useful tool that aims to reduce your environmental impact by maximising computer electricity usage. It provides an estimate of the power used by the primary computer components and gives you the option to modify the power-saving settings.
Just click here to download LocalCooling, then launch it on your PC. Go to the My power tab by clicking the Settings icon. Please bear in mind that that was only an approximate estimate because how much power you use depends considerably on what you're doing.
#2 Want a more accurate estimate? Check out the power supply calculator.
You may determine the power requirements for any individual computer component, including the processor, RAM, graphics card, storage, monitor, and even some activity scenarios, using the OuterVision Power Supply Calculator.
The OuterVision Power Supply Calculator is the most precise PC power consumption calculator on the market, and it is favoured by makers of PC hardware and power supplies all over the world. Do you need to determine the power requirements for a rack in a data center? Are you building a contemporary gaming PC? A low power HTPC media server?
While the Basic mode only requires you to input some general information about the component, the Expert mode is made to measure a PC's component in depth. I discovered that this approach has a 80% accuracy rate.
#3 You may get a real-time and accurate power usage reading from the Watt meter.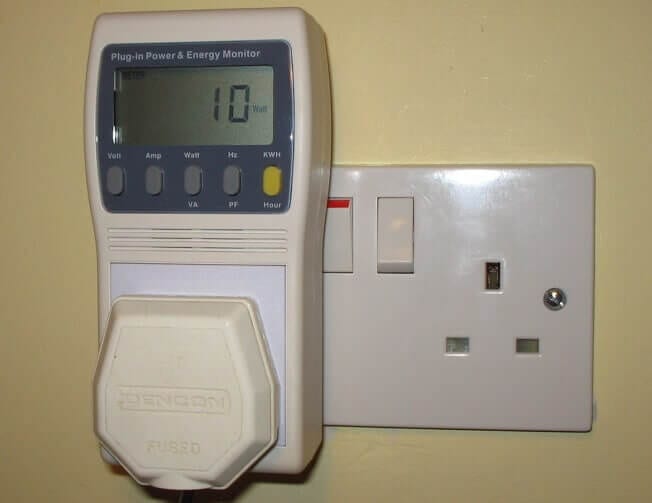 Now that you can measure energy use in kilowatt-hours, you can decide whether items are genuinely worth leaving plugged in. Monitoring voltage, amp, frequency, and power factor allows you to assess the quality of your electricity. And you'll be able to tell whether it's time to get a new refrigerator or whether the small "vampire" at the outlet needs to be put down. The PN1500 can help you save your energy costs and identify appliances that use too much energy so you can determine whether it is worthwhile to keep them or not.
And after that, the display will show you how much power your PC is using right now. This is compatible with other electronic gadgets as well. This is a tool that costs around $20 on Amazon, making it reasonably priced.
So, what do you think? Which one the best option to check PC's power usage?
How Accurate Are Calculators for Power Supplies?
Power supply calculators are fairly accurate in estimating your PC's power consumption, but they should only be used as a general reference.
You must spend money on a watt meter to get a reading with the smallest possible margin of error.
Also Read: How to Track Blue Dart Courier
What Power Level Should Your Computer Use?
That greatly depends on your hardware, your work process, and the configuration of your PC.
It's impossible to put a precise number on it. However, we can make approximations.
Here is an approximation of the power consumption of typical PCs (in idle and under load):
Low-end laptop: 30 to 100W
Low-end business PC: 50–150W High-end laptop: 40–150W
A midrange gaming computer: 70 to 350W
A high-end workstation: 100–1500W (a behemoth with spec'd out specs)
40–50W can be added for each monitor.
Also Read: NYT Spelling Bee Answers 
Also Read: NY Times Sudoku Answers
Also Read: How to Change Registered Mobile Number in Tata Play