One of the numerous features you receive with an Android phone is customization. The platform lets you customize the home screen with a new launcher, install a stylish new icon pack, and arrange the app drawer in a certain way. On virtually every Android mobile phone available, you may also alter the font style. The phones have a variety of built-in font styles as well as the ability to add additional fonts. We'll examine the various Android font styles and how to modify them on the One Plus Oxygen operating system.
In Oxygen OS 12.1, which is based on Android 12.1, OnePlus included the capability to set custom display fonts. You can now pick from a variety of typefaces. Before, your only options were "OnePlus Sans" and "Roboto." A "Fonts" shop is part of the revised Oxygen OS, which is available for the OnePlus 10 series, 9 series, Nord, and other new devices. Without root access or any OS modifications, it operates natively.
How to Use the Fonts store on OnePlus Phones
Only Oxygen OS 12 and later releases have access to the one plus fonts store. Therefore, before continuing, update your phone's OS to the most recent version. Not all outdated OnePlus devices can be upgraded to Oxygen OS 12 at this time.
Step to access fonts store:
Firstly, open the Setting App
Then, go to Personalizations > Font & display size.
Now click on the "More" option beside Roboto and OnePlus Sans
Finally, pick a font and tap on "Apply" or "Free Trial" to experience it.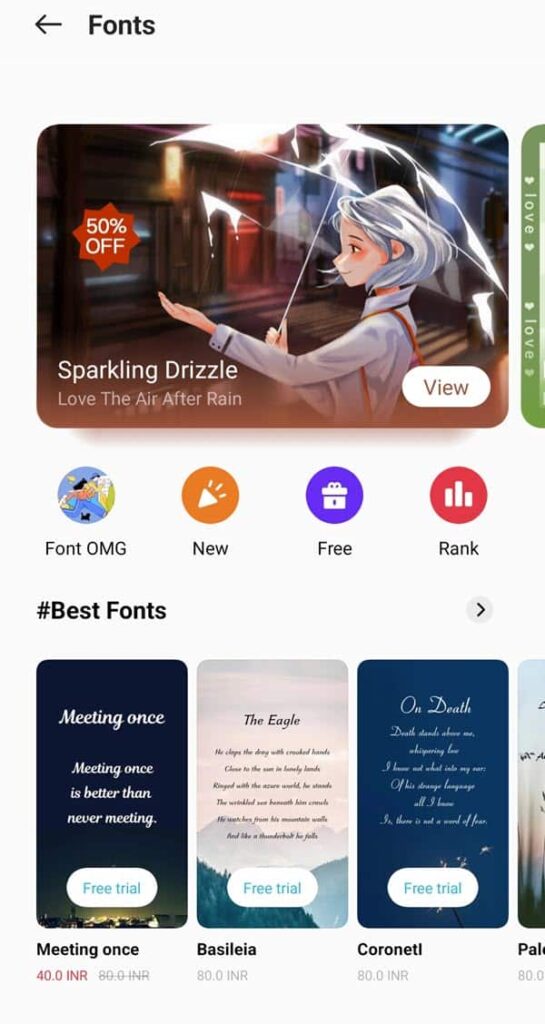 Fonts that are free to use are included in a separate section. The majority of the fonts are still in the premium category and cost money to use, according to OnePlus. Thankfully, the premium ones are not overly expensive, and most of these premium fonts include a 5-minute free trial so you may use them before you buy. Unfortunately, you are forced to use the fonts that OnePlus font and other developers have provided through the store rather than uploading your own custom font file (TTF).
Your chosen font will be used throughout the phone's user interface (UI), including the notifications area, widgets, settings, keyboard, and apps (that don't rely on a custom font).