Are you an Android user? Well, then you probably know that one of the greatest advantages of owning an Android phone is the level of customization it offers. You can change the home screen with a new launcher, play around with different icon packs, and even customize the app drawer to suit your preferences. But did you know that you can also change the font style on your Android phone? That's right! You can choose from a range of pre-installed font styles or even add your own.
And if you're using a OnePlus device, you'll be happy to know that the latest Oxygen OS 12.1 update has added a whole new level of font customization. With the "Fonts" shop, you now have access to a wide range of typefaces, giving you even more options to choose from. Plus, you don't need to have root access or make any modifications to the operating system to use this feature.
In this article, we'll take a closer look at OnePlus font styles and show you how to modify them on the One Plus Oxygen operating system. So, whether you're a OnePlus user or not, keep reading to learn more about this exciting feature!
How to Change Font in OnePlus: Using the Fonts Store
Only Oxygen OS 12 and later releases have access to the one plus fonts store. Therefore, before continuing, update your phone's OS to the most recent version. Not all outdated OnePlus devices can be upgraded to Oxygen OS 12 at this time.
Step to access OnePlus fonts store:
Firstly, open the Setting App
Then, go to Personalizations > Font & display size.
Now click on the "More" option beside Roboto and OnePlus Sans
Finally, pick a font and tap on "Apply" or "Free Trial" to experience it.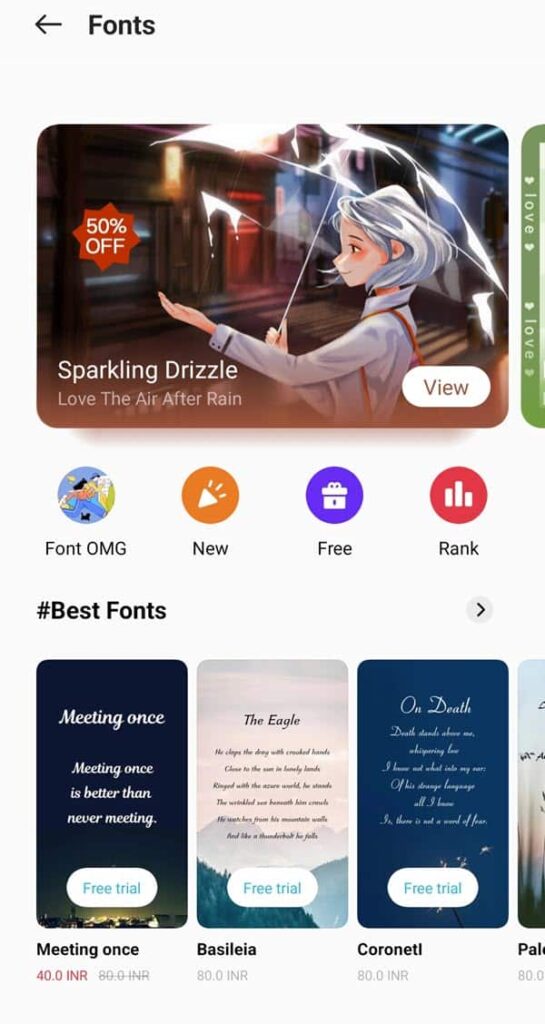 If you want to switch back to the default font or try out a different font, simply follow the same steps and select a new font from the list.
And that's how you can change the font on your OnePlus phone in Android 12 without having to root your device. It's a simple process that can make a big difference in the way your phone looks and feels. So go ahead and give it a try!
Fonts for OnePlus are free to use and are included in a separate section. The majority of the fonts are still in the premium category and cost money to use, according to OnePlus. Thankfully, the premium ones are not overly expensive, and most of these premium fonts include a 5-minute free trial so you may use them before you buy. Unfortunately, you are forced to use the fonts that OnePlus font and other developers have provided through the store rather than uploading your own custom font file (TTF).
Your chosen font will be used throughout the phone's user interface (UI), including the notifications area, widgets, settings, keyboard, and apps (that don't rely on a custom font).