Looking for a browser that caters to gamers? Opera GX may be the perfect choice for you. In addition to being a fast and reliable browser, Opera GX offers features specifically designed for gamers. But what about its VPN service and its overall reliability? The Opera GX Browser comes with many interesting features such as a built-in Free VPN, built-in Ads Blocker, and many more.
In this article, we'll answer some of the most frequently asked questions about Opera GX VPN, and how to use the VPN service. Also read, Best Browsers for Mac in 2023.
What is Opera GX?
Opera GX is a version of the Opera browser designed specifically for gamers. It features a customizable user interface with gaming-inspired designs, Twitch integration, and the ability to limit network bandwidth usage to optimize gaming performance. Additionally, it includes all of the features you'd expect from a modern browser, such as a built-in ad blocker, pop-up blocker, and tab grouping.
What is Opera VPN?
Opera VPN is a free VPN service provided by Opera Software that can be used on any Opera browser. It offers users a virtual private network connection to protect their online privacy and security. With Opera VPN, users can access geo-restricted content and browse the internet anonymously.
Does Opera GX have VPN?
Yes, Opera GX includes a VPN feature provided by SurfEasy, a VPN company owned by Opera. The opera VPN service is built into the browser, so you don't need to install any additional software or online vpn browser.
How to Enable Free VPN on Opera GX Browser
Using the Opera GX VPN service is straightforward. Here's how to use it:
Step 1: Open the Opera GX browser and click on the Menu icon in the top left corner.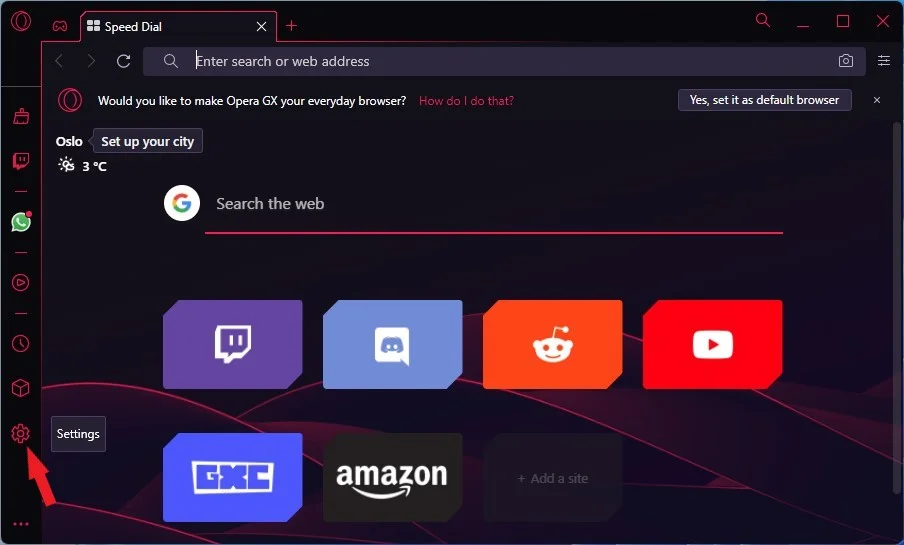 Step 2: After Clicking on Opera browser then Click on "Settings" and select "Privacy & Security."
Step 3: Under the VPN section, toggle the switch to enable the VPN(Opera vpn).
Step 4: Choose the region you want to connect to and click "Connect".
Is Opera GX free?
Yes, Opera GX is free to use, just like the regular version of the Opera web browser. However, it offers additional features and customization options tailored for gamers.
Also read: How to Install Java JDK on Windows 11
Is Opera GX VPN good?
The Opera GX VPN is suitable for basic use cases, such as browsing the internet, streaming, and accessing geo-restricted content. However, since it is a free VPN service, it may not offer the same level of security and privacy as premium VPN services. Additionally, the VPN may not be suitable for advanced use cases, such as torrenting or accessing highly restricted content.
In conclusion, Opera GX is an excellent choice for gamers who want a fast and reliable browser that offers features tailored to their needs. With its built-in VPN feature, you can also browse the internet securely and anonymously. However, if you have specific privacy or security needs, you may want to consider a premium VPN service.