Blue Dart is a well-known courier service that provides speedy, dependable, and door-to-door delivery service to millions of people in India. The method of tracking the progress of products or consignments sent by Blue Dart Courier is quite straightforward.
To track a Blue Dart courier, simply go to the company's official website and enter the waybill number or reference number and click the 'Track' button.
Those who are familiar with the BlueDart tracking system will not need this guide. Yet, for newcomers, this guide on how to track Blue Dart couriers may save time and be useful.
Blue Dart Courier Tracking Process
Visit the Official Blue Dart Website https://www.bluedart.com/
When you arrive at the Blue Dart DHL Express Limited homepage, you will notice a TrackDart – Track your Shipment feature on the left side.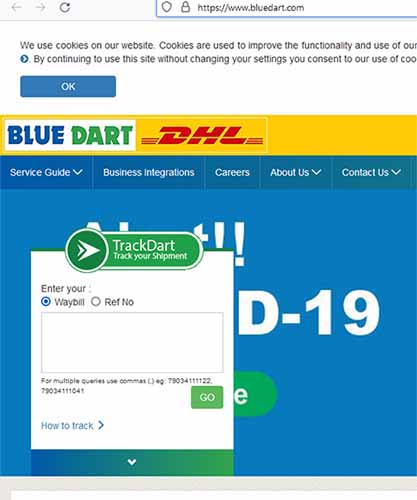 You must choose between Waybill and Ref No in the TrackDart section.
Choose an option based on the details of the courier package you have available.
Enter the Way Bill Number or Reference Number, whatever details you have chosen, in the area below and click the Go button.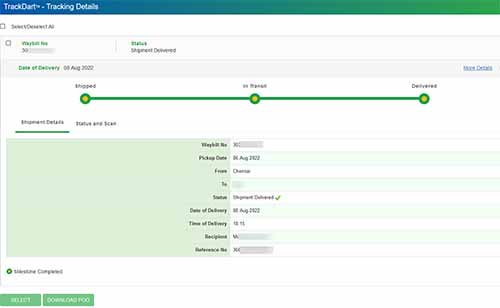 The next page will present the shipment details.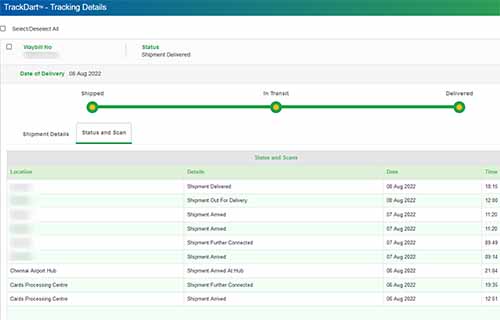 To view the status in further detail, click on the Status and Scan tab, which will display the whole status and scans of your Blue Dart shipment.
Using the Blue Dart Tracking Portal, you can follow shipments online for 45 days after the date of dispatch.
If you get an error saying number not found or Incorrect Waybill/Reference Number/Order Number entry or Invalid Waybill/Reference Number entry after tracking your Waybill Number or reference number, it is possible that the courier company has not updated the Bluedart courier tracking details. If the mistake persists for an extended period of time, you can contact Blue Dart by visiting their 'Call Us' page. This page has a list of Blue Dart contact numbers along with office addresses based across different regions in India.
What exactly is BlueDart?
BlueDart, also known as Blue Dart Express Ltd., is a logistics and distribution firm that provides delivery services in South Asia. Its headquarter is in Mumbai, India. It began operations in 1983 as Blue Dart Courier Service. Khushroo Dubash, Tushar Jani, and Clyde Cooper are its founding members. Balfour Manuel, a 35-year veteran of BlueDart, is the company's CEO as of 2019.
According to some estimates, BlueDart has India's biggest private e-mail account. It employs the COSMAT tracking system for local goods and COSMOS for overseas shipments. BlueDart Aviation, a subsidiary of BlueDart, was founded in 1994 to lease aviation-related companies. They now have six Boeing 757s in service.
BlueDart is the most trusted shipping delivery company in India, specializing in logistics solutions. The organization is regarded as the fastest courier delivery service in the country, with no hidden fees. The company currently serves around 35,000 different sites. The price is determined by the weight of the packages. Without a doubt, the brand's low-cost delivery services are one of the reasons, it is India's top courier company.
How long does it take BlueDart to deliver?
Blue Dart is known for providing quick, inexpensive, and dependable services. If you choose their express service, your goods will reach your door in 1 to 2 business days and the standard blue dart service will take 3 to 5 working days. Please keep in mind that your parcel's delivery time may still be affected by your location. Some users have noticed that delivering to Patna may necessitate a longer delivery time. Other circumstances that could delay delivery include bad weather, road restrictions, or a global epidemic.
How does Blue Dart Work?
Blue Dart is a courier and logistics company that specializes in express delivery services. Here's how Blue Dart works:
Pick-up: Blue Dart offers pick-up services from the sender's location. They collect the packages and transport them to their nearest hub.
Sorting: At the hub, the packages are sorted based on their destination and service type (e.g., express, freight, etc.).
Transit: The packages are then transported by air or road to the destination city.
Delivery: Once the packages arrive at the destination hub, they are sorted again and then delivered to the recipient's address. Blue Dart offers various delivery options, including same-day delivery, next-day delivery, and time-definite delivery.
Tracking: Blue Dart provides a unique waybill number for each shipment, which can be used to track the shipment's status online or through other modes of communication.
Overall, Blue Dart operates with a well-coordinated logistics network that enables it to offer fast and reliable delivery services to its customers
How can I track my BlueDart packages?
To track your BlueDart packages, you must first know what your tracking number is. The company provides BlueDart tracking numbers, which are typically made up of 11 numbers.
Sending an SMS is one technique to track your package.
You can track the status of your order by texting T order number to 56767.
You may follow the status of your courier delivery by texting I order number to 56767.
Although tracking status through SMS is reliable, it is not the most efficient approach to track your parcels if you ordered a large number of deliveries. Fortunately, they provide the most effective and dependable method of tracking your packages. Here tracking is completely free and offers numerous advantages. Simply type the 11-digit number into the webpage and search to find your Blue Dart parcel. One of the advantages of Bluedart is that you can enter as many tracking numbers as you want and it will track your packages instantly!
Why can't I track my BlueDart parcel?
Depending on the vendor, BlueDart tracking may take some time. You should be able to track your parcel within 24 hours of placing your order.
BlueDart shipments can be monitored for 90 days after they are sent.
Once you get the tracking number, use Bluedart's service to track your shipments so you can know where it is.
I hope this post was helpful in solving your queries related to Blue Dart courier.
Tracking your Blue Dart courier is a simple and convenient process that can be done through the company's official website, mobile app, SMS tracking, or by calling their customer service. With the unique waybill number provided for each shipment, customers can get real-time updates on the status and location of their packages. Blue Dart's efficient logistics network ensures timely and reliable delivery of packages to their intended destinations. With this knowledge, you can easily track your Blue Dart courier and stay informed about its delivery status.
BlueDart and DHL
A Sales Alliance Agreement between Blue Dart and DHL was signed on September 12th, 2002, and it became effective on October 1st, 2002, principle to principal. When DHL Express (Singapore) Pte. LTD. bought an additional 81.03% ownership in Blue Dart in 2005, this alliance was further solidified. It now has a 75% stake as of November 23, 2012.
The best firm for expedited air delivery within India is Blue Dart. The greatest firm in India for transporting items overseas by air is DHL Express. DHL provides a variety of services, such as swift international deliveries and cutting-edge logistical solutions for managing repairs, managing inventories, and quickly delivering goods.