STEPN is a Web3 lifestyle application featuring key aspects of Social-Fi and Game-Fi. Those users who wear NFT Sneakers can walk, jog, or run outside to collect GST. This can be used to level up and purchase new Sneakers.
The in-app marketplace allows players to lease or sell their NFT Sneakers; users' GST revenues are saved in the in-app Wallet, which includes a Swap option.
To sign up for the STEPN app, you will need an activation code, which can be obtained by becoming a STEPN member. For that, you have to register yourself. However, if you are in a rush and have tried obtaining the activation code from your friends and relatives, there are several more methods to obtain the activation code to join. Let's check that out.
Get STEPN Activation Code from Official Website
On their official website, STEPN has preserved the possibility of obtaining activation codes for the app.
The get-code link is https://stepn.com/getcode; you must visit this link and confirm that you are not a robot.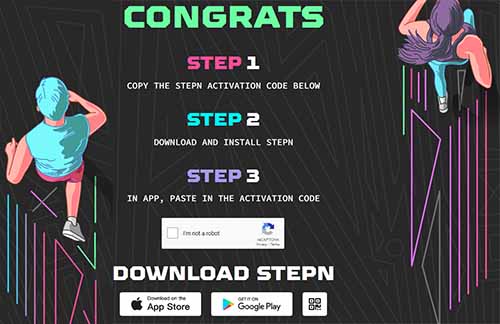 After completing the human verification process,
It will generate a one-of-a-kind activation code for you.
Codes are refreshed every day at 24:00 AEDT/ 13:00 UTC, and if you receive the notification "No more Activation Code left…", this signifies that all codes have been used. As a result, you must act quickly and visit the site at the exact code refresh moment.
Even if you get "No more Activation Code left…", keep trying with multiple browsers or in private or Incognito mode. You will absolutely obtain it after multiple attempts, but you must be patient.
You can sign up for the STEPN app with this STEPN verification code.
Also Read: NY Times Sudoku Answers Today
Get STEPN app Activation Code through Official Social Profiles
STEPN regularly shares activation codes of STEPN on their official social networking sites such as Twitter, Instagram, Telegram Group, Discord Channels, etc.
You can follow them on these online platforms, and get hold of a free activation code.
Also, they regularly run contests, you need to participate by performing the actions mentioned by them in their post. And you can become one of the winners of the activation code.
Grab STEPN Activation's from Twitter Handle
You can also get activations if you constantly track the STEPN mentions on Twitter. Existing STEPN users frequently exchange free STEPN activation codes on Twitter.
You can obtain those activation codes by going to Twitter.
Enter STEPN in the Search box.
This page will contain a list of all topics mentioning STEPN in tweets.
You must filter the results by Latest here.
Also, keep refreshing this page.
You will be able to see here whenever a Twitter user shares an activation code.
Make careful to utilize the code as quickly as possible, as there will be other users in need who may take advantage of the opportunity before you.
How to Generate STEPN Activation Code in the app
If you use the STEPN app to earn tokens while walking, you are eligible to generate an activation code. The generated code can be used to invite someone to join STEPN.
If a user has spent 10 energy, they can generate an activation code from the app. The user can only keep one activation code in their possession until it is used.
This activation code can be shared with anyone who wants to use the app. The processes for generating the activation code are listed below.
Tap on the STEPN app to open it.
Tap on your profile avatar to access your profile page.
The first option you will see on the profile page is Activation Code.
Select the Activation Code option.
This page will display the activation code (you will be only able to see the activation code if you have started using the app by buying the sneaker and have spent 10 energy)
You can give this code to a friend, relative, or foe who wants to use the Stepn app.
How to Create an Account in the STEPN app using Activation Code
Download the STEPN app from the app store to establish an account.
After installing the app, touch on the STEPN icon to open it.
The app screen will prompt you to input your email address; enter your email address in that area and then click the Send code button.
You will receive an email with a verification code.
Enter the verification code you received and click the login button.
The next screen will prompt you to enter the activation code, which you can obtain by using the methods described in the article.
Once you've obtained the activation code, enter it in the activation code area and press the start button.
After entering the activation code I am getting the error "Player hasn't logged in yet?"?
If you receive the error "Player hasn't logged in yet?" after inputting the activation code, ", then simply request the email verification code again and complete the activation by inputting the activation code. This error usually occurs after a brief delay following the entry of the email verification code.
When I try to generate an activation code from the official website, I get the message "Oops… No more Activation Code left…"
This error message may appear if the activation code is not available. You can try your luck again later.