Have you ever found yourself in a situation where your phone's power button just won't work? It can be a frustrating experience, especially if you need to restart or shut down your device. But don't worry, we've got you covered!
In this guide, we'll explore all the alternative ways to restart or shut down your Android phone or tablet without relying on the power button.
Whether your device is made by Samsung, Xiaomi, Oppo, or any other manufacturer, these tips will work for you. So, if you want to avoid pressing that stubborn power button, keep on reading!
Turn Off Phone without Power Button: Via Settings
Android cellphones may actually be turned on or off in a number of different ways. In this article, we'll go through how to shut down Android phone without power button. In keeping with the theme of simplicity, let's start the instruction manual off simply.
There are a couple alternative ways to switch off an Android device if the power button is damaged. Without touching the volume or power buttons, you can restart the phone by following the guidelines.
On a few Android devices, you can turn off the phone independently. So don't worry if you ever find yourself in that situation. Phones from various OEMs may offer various power-off options. In that case, you need to look at your phone's settings.
Click on Settings on your Android phone.
Find power off, switch it off, or turn it off right away.
It will show every parameter that is pertinent to it (Not all phones will have this option).
So, if you come across the option, select it.
It will take you there, to the main Settings page.
To turn off your phone without pushing the Power button, select Power Off/Power Off/Switch Off.
Also read: How to Save Whatsapp Status Videos and Images
Also Read: Universal Travel Pass Apply Online 2022 Check Benefits, Application Process
How to Switch off Phone without Power Button: Scheduling
Yes, all Android phones include a further option called Schedule On and Off. There is no requirement to clarify it because you are already familiar with it from its name. However, you might not be aware of how to use this feature. Android phones can also be shut off using this feature without the power button. You can adhere to the directions listed below.
Your Android device's settings should be opened. Look in the settings for "Schedule Power Off."
The power on/off switch should be tapped. Set a timer for when you will switch off your device.
How to use ADB Command to Power Off Android via Power Menu
ADB commands can be very helpful in some difficult situations. You can use ADB Shell commands to open the Power menu by pressing and holding the Android device for a protracted period of time. Open the command window, link your phone to the computer, and enter the following command:

adb shell input keyevent 5 sleep 5

Once the Android Power menu has appeared, you can select the Power Off or Reboot option as needed.
How to Switch off Android Phone Without Power Button: via Accessibility Menu
A variety of accessibility features are included on all Android devices to help users who are physically or visually impaired. Two crucial accessibility features for Android are Talkback and Accessibility or Assistant Menu. You can receive a floating menu icon or add an Accessibility shortcut to your Android device's navigation bar by turning on this menu. You may get quick shortcuts to launch Google Assistant, Recents, Power Menu, Screenshots, and more by touching the accessibility menu icon.
Let's look at how the Accessibility Menu may be used to power off an Android phone or tablet without using the Power button.
On your Android device, go to Settings and select Accessibility. You may locate Accessibility Go to Settings on your Android device and choose Accessibility.under Additional options on handsets made by Chinese OEMs like Xiaomi, Vivo, Oppo, OnePlus, Realme, Huawei, and others.
If you have a Samsung Galaxy phone or tablet with shopping mode, choose Interaction and dexterity, then hit the toggle icon next to the Assistant menu.
As seen below, a floating icon for the Assistant menu will show up on the screen. By selecting the Assistant menu item, you can modify the floating icon's size, appearance, placement, and other attributes if you find them annoying.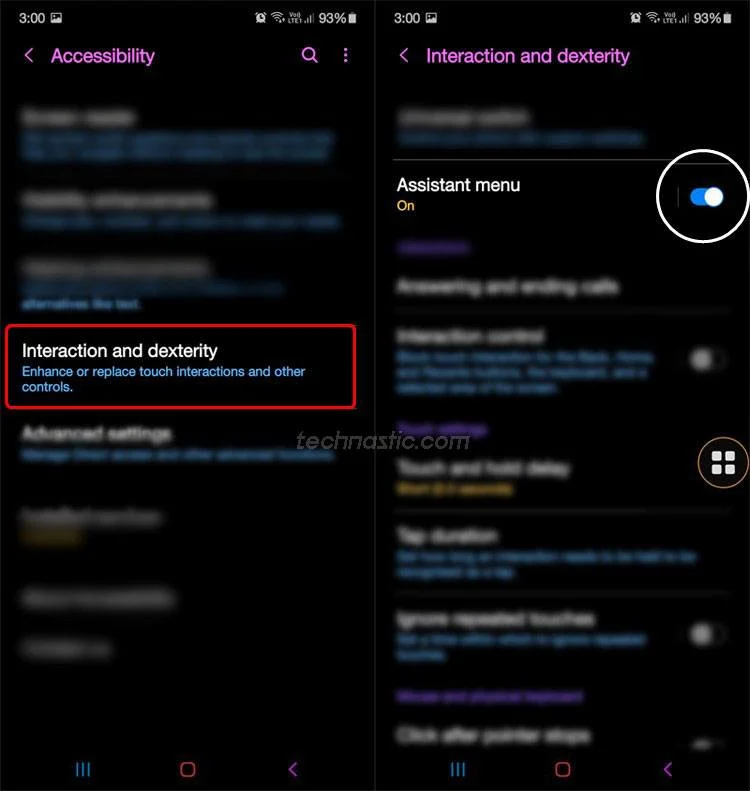 To enter the Power off menu, you tap on the Assistant menu symbol that is floating. You no longer need to hit the Power button to switch off your Samsung Galaxy smartphone.
If you possess a phone built by Xiaomi, Redmi, Vivo, Oppo, OnePlus, Realme, or Huawei, you must enable the Accessibility menu from Accessibility. As soon as you enable the accessibility menu, an icon for it will appear on the navigation bar. Simply tap the Power button to turn off your phone without having to press it.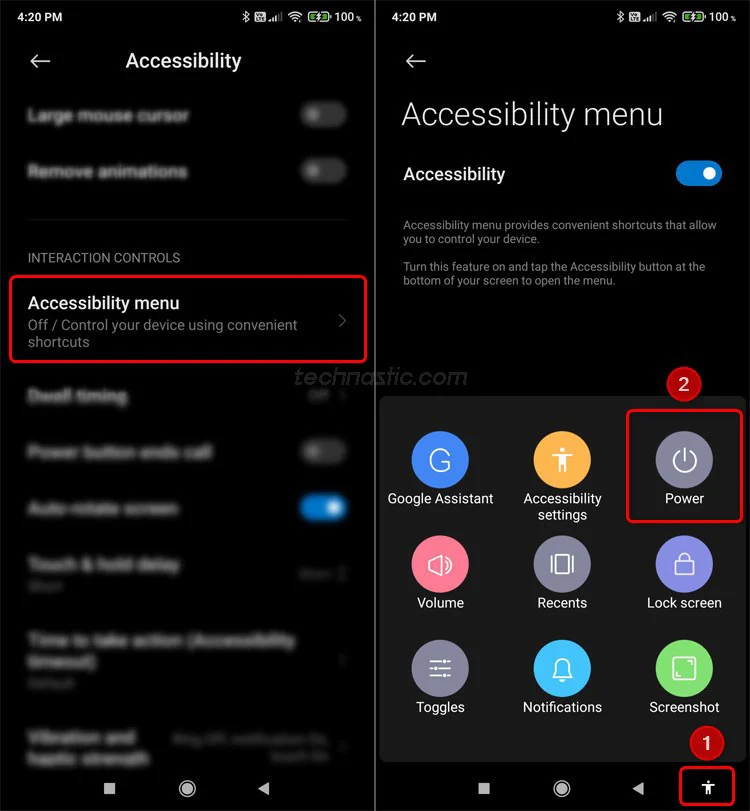 Don;t Miss: How to Backup Microsoft Authenticator Account and Restore on a New Smartphone
How to Switch off Phone Without Power Button using App Purchasing Mode
There are applications for every need available in the Google Play Store. Numerous apps are available that can restart and turn off a phone with a broken Power button. All of these programs require either root access or Accessibility permission and provide options similar to those found in the accessibility menu shown above.
I put to the test a few of the best-rated and most often-used apps that let users reboot and switch off their Android smartphones without using the Power key.
To Sum up,
While the power button is a critical component of any phone, it's good to know that there are alternative ways to turn off phone without power button. Whether you're dealing with a manufacturing flaw or an accidental drop, these tips will come in handy. From using your device's touch screen to employing a third-party app, there are plenty of options available to you. So the next time your power button fails you, don't panic – just try one of these methods instead!